THE KEYS SHARK DIVING EXPERIENCE
Once the crew and guests are on the boat we head out just a few miles to one of our shark encounter grounds.  It usually takes under a half hour to get to these Florida Keys shark viewing locations.  When we reach our destination we anchor up and begin chumming for sharks.
Our locations are usually close to land and in shallow water allowing us to see sharks as they come to our baits.  It usually takes anywhere from 5 minutes to an hour for sharks to show up.
Once sharks surround the boat we deploy several hook-less baits the sharks follow right to the boat for you to see up close.  It is also possible to "wrangle" sharks right next to the boat as they go for our bait-lines.  These trips take place relatively close to shore making it easy run to and from the dock.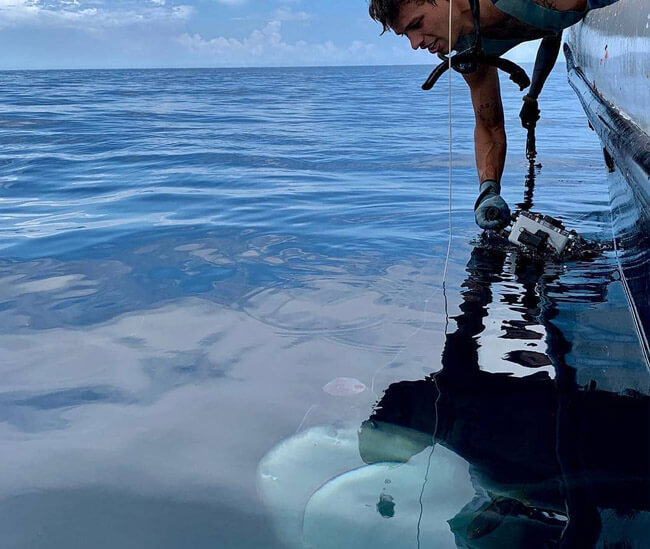 Once the crew is on the boat we head out on a 5 to 20 mile ride to the dive site. It only takes about an hour of cruise time to get to the shark grounds.  After the chum slick is started the sharks show up relatively quickly. It usually takes about ten minutes to an hour for them to show up. As the sharks begin to appear, they will begin to interact with our bait and our team will get you ready for your dive. From here it's time to get divers ready to dive and then our team puts the shark cage in the water. Once everyone is ready, the professional team at Florida Keys Shark Diving helps to get divers in position to get into the cage, with the cage securely tethered to the side of the boat for easy entry and exit to and from the water.
Our team assists divers as they get into the cage and enjoy the awe-inspiring experience of being a few feet away from the ocean's apex predators. Inside the 100% shark-proof cage, our guests can relax in comfort as they experience the magical shark species drift by during their time underwater. Our guests comfort remains the number one priority throughout the dive session.
Once divers are more comfortable, we invite guests to get in and out of the shark cage throughout the day's excursion. This provides a great experience to spend the day in and on the fabulous water of the Florida Keys interacting with sharks in their native Florida Keys environment. If you have questions about our trips or what else you can expect on a shark diving excursion, please contact Keys Shark Diving.