KEYS SHARK DIVING FILM & MEDIA CREWS
Marine Wildlife
Film & Media

Productions
In addition to our unforgettable shark diving charter services, Keys Shark Diving proudly offers a full range of professional film and media solutions for businesses, film crews and teams who need a powerful, experienced solution for marine wildlife film productions in the State of Florida.
Our professional team of Captain, Divers and Shark experts have more than a decade assisting film productions with effective solutions to help bring your crew to the right locations to help you capture the type of footage you need to make your film production, commercial or research study a complete success.
At Keys Shark Diving we target our film production services directly to media, film and research teams that have a mission to study, record and document the awe-inspiring nature found just off of the coast of Florida. Best of all, Keys Shark Diving has a well established support network that can help cater to the specific needs and objectives of your unique project.
After years on the water working with sharks and other native Florida marine wildlife, our team has the rare combination of knowledge and experience to know what it takes to help you and your team get the shot and the results that you need to make your project a success. Have a look at some of our valuable film and media services and contact us today for more information or to discuss how we can best serve your objectives.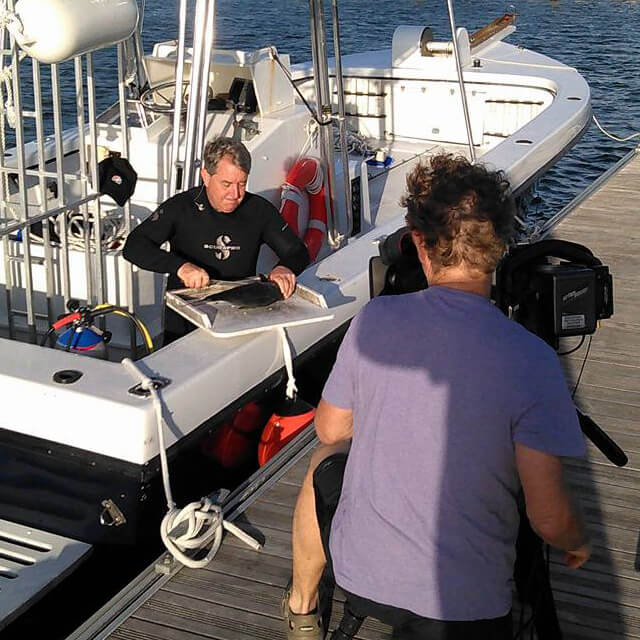 Comfortable, Safe, & Stable Boats
U.S.C.G Licensed and Insured Captain and Crew
Full Coast Guard Licensed Safety Equipment
Full Electronics GPS, Radar, Sonar
Professional Spotter Plane Assistance
Professionally Built Polycarb Shark Cage
Experienced Safety Diver & Underwater Camera Assistant
Extensive Marine Intel Network Surrounding South Florida
Professional and Experienced Crew
Ability to Travel Throughout Florida and United States
We can organize and run any these productions in any capacity needed:
Documentary Films
Commercials
Movies
Research Studies
Independent Projects
For any questions or other marine wildlife film and media interests please contact Keys Shark Diving for additional information. Our team happily covers all aspects of the expedition all you need to do is bring your camera or research equipment. We happily customize any service to meet the unique objectives of your marine film project, proudly working with any special needs or demands to help your project be a sucess. All equipment necessary to find, attract and interact with any marine life is provided completely by the Keys Shark Diving team.